Panel interface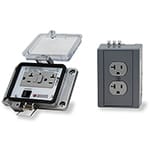 The Panel Interface Connectors are devices that mount to the outside of a control panel's housing and allows the user to interface with the computer, PLC, or other devices inside the control panel without opening the panel door. The ability to interface with the contents of the cabinet without opening the door eliminates some potential safety hazards associated with having an open electrical panel, one of the main safety concerns is usually Arc Flash. Our standard Panel Interface Connectors contain a duplex GFCI power outlet, a RJ45 connector, a USB interface and a 9 pins D-Subminiature, all connectors that are commonly used by the PLC, computer, or other programmable device within the control cabinet. The Panel Interface Connector can be defined and customized according to the different applications and can be provided with almost any combination of connectors.
Voltage indicators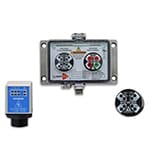 They enable workers to reduce risks by having the ability to verify the voltage status of equipment without exposure to the hazard and to performe mechanical and electrical LOTO tasks by verifing the release of stored electrical energy as per OSHA, NFPA 70 (NEC), NFPA 70E and CSA Z462. Voltage Indicators are electrical components hardwired to a source of voltages, typically to the load side of an electrical feeder or a disconnect switch, and permanently installed into electrical systems. Voltage indicators are available for electrical panel (wall mounting) and for field installation, for ordinary locations or for hazardous locations and with fiber optic connection for use in dead front electrical panel where voltage in excess of 24V is not allowed on to the door.
The products are:
> UL | CSA certified
> In compliance with international standard
> Application versatility
> Exportable in North America
> High configurability
> High modularity
Panel interface and Voltage indicators: Tekima, excellence in automation.